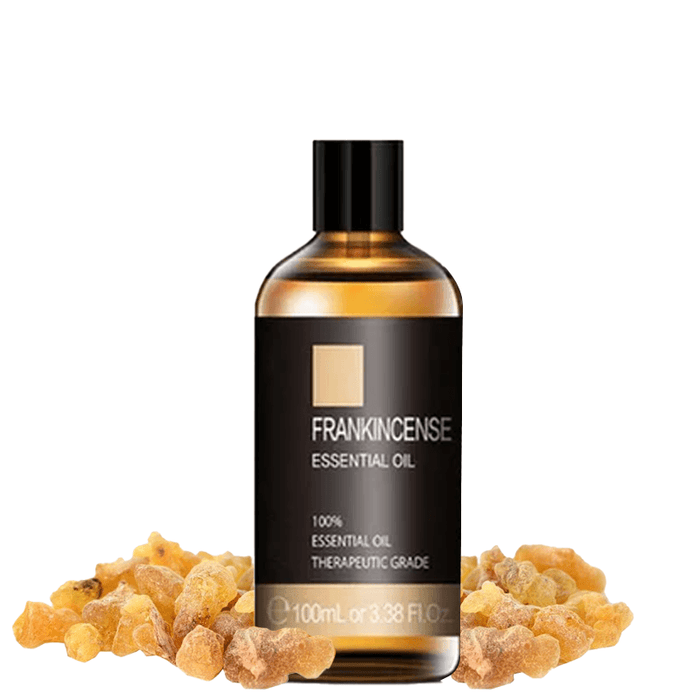 100ml Natural Frankincense Essential Oil
In Stock

Discover the unparalleled essence of our 100ml Natural Frankincense Essential Oil – a fragrant treasure from the heart of nature's sanctuary.

Immerse yourself in the enchanting aroma of this precious oil, meticulously crafted to embody purity and exceptional quality.

Let the soothing woody scent create an aura of serenity, enveloping your surroundings in a symphony of tranquility.
FEATURES:
High-Quality Essential Oil: Crafted from 100% pure plant extract, our Frankincense essential oil is devoid of additives and fillers, allowing you to experience the true therapeutic power of nature.


Versatile Usage: These natural essential oils are designed to promote mental calmness and deep relaxation through inhalation.
Ideal for aromatherapy, diffusers, humidifiers, oil burners, spas, and air purifiers.


Aromatherapy at Its Best: Harness the calming and relaxing properties of Frankincense oil to create a serene ambiance in your home, office, or spa. Embrace peace of mind and nurture your overall well-being.


Cleanses and Refreshes: Our Frankincense oil purifies the atmosphere, eliminating impurities and revitalizing your environment with a fresh and invigorating scent.


Convenient Packaging: Each bottle holds 100ml of Frankincense essential oil, safely preserved in an amber brown bottle to shield its potency from harmful UV rays.
The included dropper ensures precise application, and the travel-friendly size allows you to enjoy its benefits wherever you go.


Versatile Applications: Beyond diffusers and humidifiers, our Frankincense oil offers a wide range of uses.

Enhance your self-care routine with foot skin care, soothing body massages, or add a few drops to your bath for a blissful and aromatic experience.


PACKAGE INCLUDES: One Unit