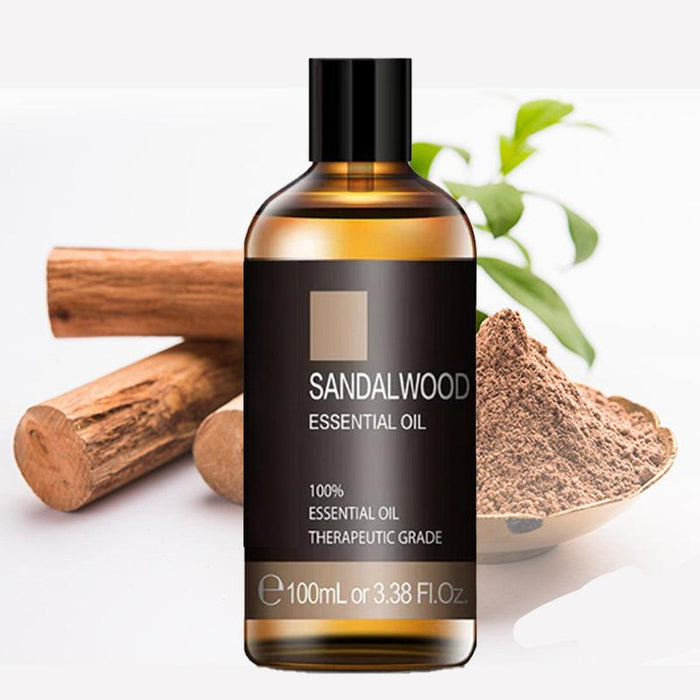 100ml Natural Sandalwood Essential Oil
In Stock

Experience the epitome of relaxation and tranquility with our 100ml Natural Sandalwood Essential Oil.

Crafted from the finest ingredients, this exquisite oil is a must-have for those seeking serenity and harmony in their daily lives.

Indulge in the luxurious scent and therapeutic benefits of this pure essential oil, and let it transport you to a world of peace and calm.

FEATURES:
Distilled to Perfection: Our sandalwood essential oil is meticulously distilled using advanced techniques, ensuring the preservation of its aromatic richness and therapeutic properties.


Sustainable Sourcing: We are committed to sustainability. Our sandalwood oil is sourced responsibly, supporting ethical practices that protect the environment and local communities.


Versatile Applications: Besides its calming aroma, our essential oil can be used in skincare rituals, haircare routines, and as a natural fragrance for DIY creations, allowing you to fully explore its versatility.


Long-lasting Fragrance: The rich and enduring scent of sandalwood lingers in the air, providing a lasting sensory experience that fills your space with an aura of tranquility.


Usage- These natural essential oils target the calmness and deep relaxation of your mind through breathing. Perfect Essential Oils set for Aromatherapy, Oil for diffusers, humidifiers, Oil Burners, Spa, and Air purifiers.


Premium Extraction Method: Our sandalwood oil is extracted through a meticulous process, preserving the integrity of the natural compounds and capturing the true essence of this precious wood.


Therapeutic Benefits: In addition to promoting calmness and relaxation, sandalwood essential oil is believed to possess antibacterial, anti-inflammatory, and antispasmodic properties, offering a range of potential health benefits.
PACKAGE INCLUDE:
Number of Pieces: 

One Unit
Shop now and embark on a sensory journey towards inner peace and relaxation.