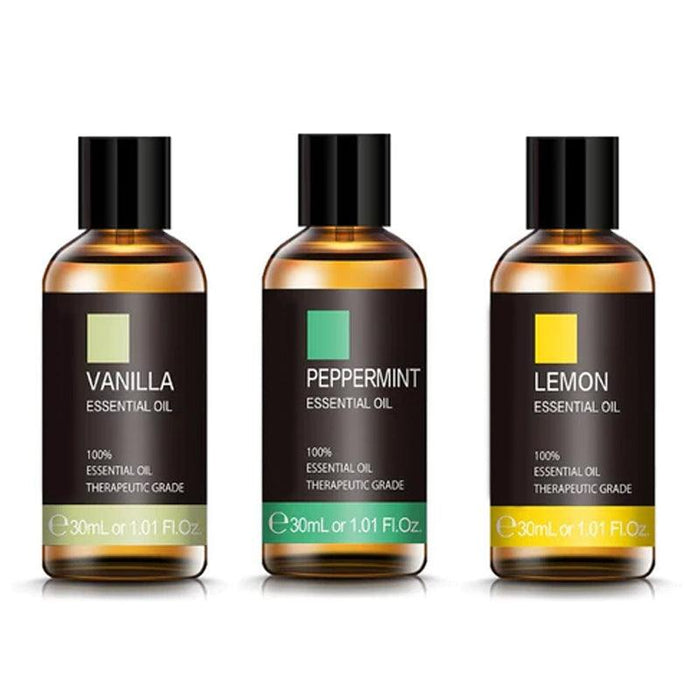 30ml Essential Oils Humidifier Set Of 3 Packs
In Stock

30ml Essential Oils Humidifier Set Of 3 Packs, mix and match and choose your perfect pair of 3 essential oil from various fragrances like vanilla, lavender, peppermint, lemon, rose, and sandalwood. Every oil has its own benefit and works miracles to keep you calm.
About this product:   
High-quality: Essential Oils Humidifier Set Of 3 Packs are high-quality oils made from pure plant extracts.
Usage:

 

The scent of this oil works as a miracle to keep you calm and take you out in nature if you use it as aromatherapy.
Elements:

 

It has multiple fragrance oils from lemon, lavender, rose, and many more, making it suitable for everyone.
Multiple Benefits:

 

These can be used in massages, at home, or even at the workplace to keep a good environment.
Packaging:

 

It comes in a combo of 3 oils of  30ml, you can choose from the variety of oils available.
Features-
Number of Pieces: 

Combo (3 Pieces)

Essential Oil Type: 

Pure Essential Oil

Ingredient: 

Pure Natural Plant Extract Oil Essential

Item Type: 

Essential Oil

Quantity: 

3pcs

30ml