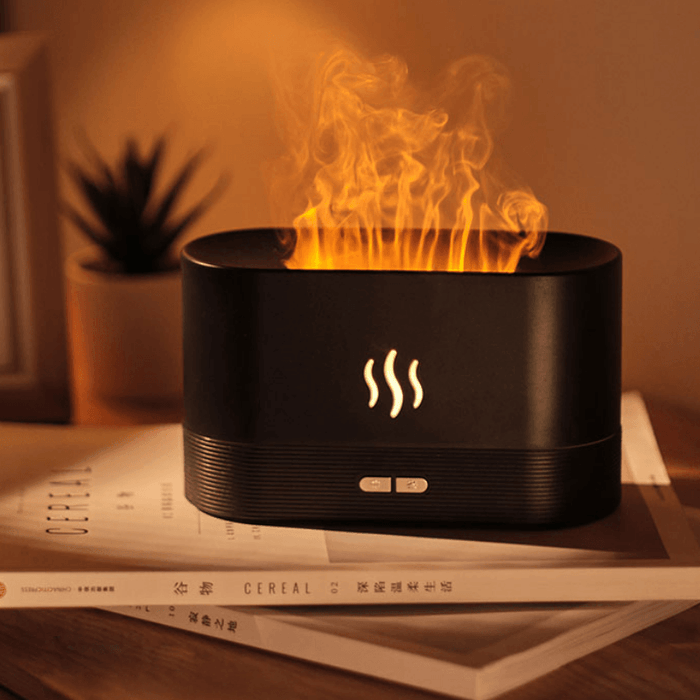 Flame Lamp Portable Essential Oil Diffuser
In Stock

Elevate your surroundings with our versatile Flame Lamp Portable Essential Oil Diffuser.

Not only does it captivate with its stunning flame simulation, but it also excels in air purification and creating a serene atmosphere.

This multifunctional device serves as both an aromatherapy diffuser and an ultrasonic humidifier, offering spa-like tranquility, phototherapy benefits, or non-aromatherapy humidification.

Harness the timeless practice of aromatherapy to harmonize your body and soul, and enjoy the flexibility of portability, making it suitable for the gym, yoga, baby room, office, spa, bedroom, or even a rental room.

Rejuvenate your skin and revitalize your well-being with this essential addition to your life!
FEATURES:
Aromatherapy Function: Customize your ambiance with your favorite essential oils.


Flame Light Mode: Enjoy the mesmerizing atmosphere created by the flame simulation.


Automatic Power-Off: Ensures safety by shutting off when there's insufficient water.
SPECIFICATIONS:
Power Supply: USB cable (5V2A recommended)
Water Tank Capacity: 180ml
Atomization Amount: 15-20ml/h
Use Time: Provides 9-12 hours of soothing mist
AROMATHERAPY FUNCTION:
Fill the water tank (do not exceed the water level).
Add an appropriate amount of water-soluble essential oil.
Short press the atomization switch button to start aromatherapy; press again to stop.
LIGHT FUNCTION:
Short press the light switch button to activate the flame atmosphere light.
Long press to increase brightness by 30%.
Short press again to turn off the flame atmosphere light.
PROTECTION FUNCTION:
Built-in water shortage protection stops operation when no water is detected.
TIPS:
Use a maximum of 1-2 drops of essential oil.
Use only water-soluble essential oils to prevent humidifier corrosion.
Clean the humidifier and atomizer promptly after using essential oils.
IMPORTANT TIPS:
Ensure the cotton swab is fully immersed in water before use.
Use pure water, not tap water.
Regularly clean the atomizer for optimal mist production.
WHY IT'S WORTH BUYING?
Humidification: Purify confined space air.
Silent Operation: Provides continuous mist for a peaceful environment.
Convenience: Compact and portable, suitable for home, office, or car use.
Thoughtful Gift: A meaningful present for family, friends, colleagues, or business partners.
PACKAGE INCLUDES:
1 x Diffuser
1 x User Manual
1 x USB Cable