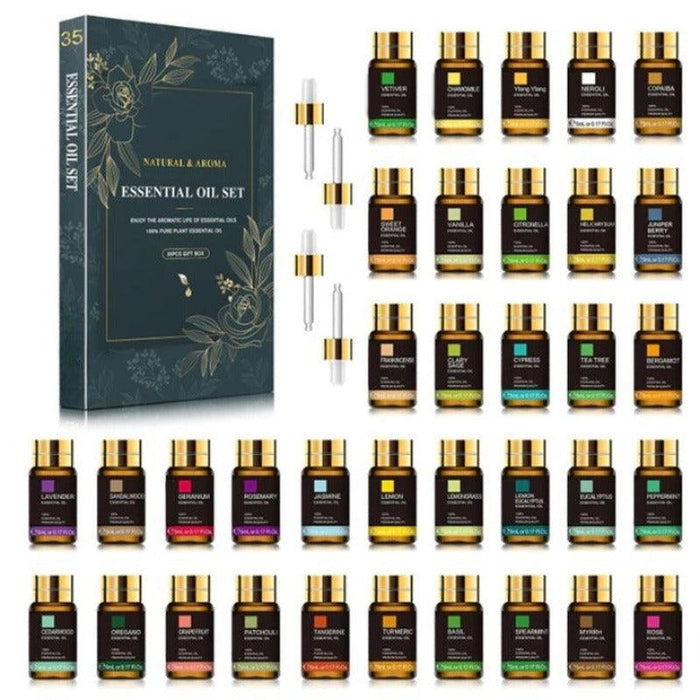 35 Bottles of Essential Oils Set For Humidifiers
In Stock

35 Bottles of Essential Oils Set For a Humidifier with 35 different fragrances, all made from natural and organic plant extract, to give you the utmost benefit and work as aromatherapy too. It can be used for massage, as these oils make you feel relaxed.
About This Product:    
High quality- These are 5ml Pure Plant Extract Essential Aromatherapy Oils. No 

additives, No fillers, Just pure essential oil. Unwavering commitment to the highest quality products.

Usage- These Essential Oils are dedicated to bringing a calm, warm, relaxing, and pleasant environment, Condensing the essence of plants and feeling the power of nature.
Benefits- It is best for cleaning the atmosphere of dust and bacteria. It also helps in calming the mood and relaxing your mind.
Packaging/Quantity- It comes with 35 different variants of 5ml glass bottles with 4 droppers along with it. 
Elements- It comes in a large variety of variants like Lavender, Jasmine, Eucalyptus, Vanilla, Peppermint, Sandalwood, Frankincense, Sweet Orange, Ylang Ylang and many more.   
 Features:   
Number of Pieces: 

Combo

Essential Oil Type: 

Pure Essential Oil

Item Type: 

Essential Oil   

Quantity: 

35 Bottles of Essential Oils      

Usage: 

Humidifier Diffuser

Volume: 35

 x 5ml