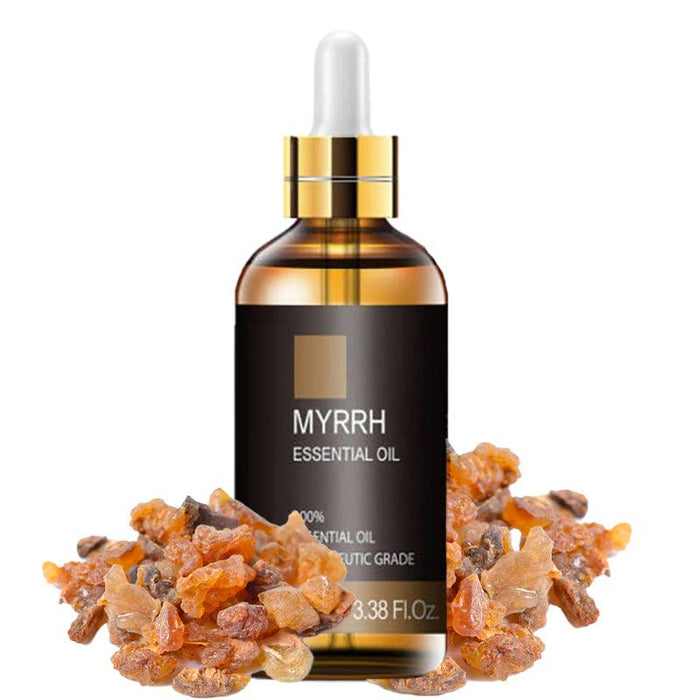 100ml Natural Myrrh Essential Oil
In Stock

Discover the essence of purity with our 100ml Natural Myrrh Essential Oil.

Derived from the sacred Myrrh tree, this exquisite oil offers a delightful fragrance and a multitude of skincare benefits.

Indulge in the luxurious aroma and embrace the remarkable benefits it brings. Let the sweet whispers of tranquility envelop your senses and ignite a symphony of relaxation.

FEATURES:

Uncompromising Quality: Crafted with utmost care, our Myrrh Essential Oil is meticulously extracted from pure plant sources. Embrace the purity of nature with every drop, as we maintain our unwavering commitment to excellence.

Usage- These natural essential oils target the calmness and deep relaxation of your mind through breathing. Perfect Essential Oils set for Aromatherapy, Oil for diffusers, humidifiers, Oil Burners, Spa, and Air purifiers.



Embrace Calmness: Envelop your senses in serenity and embark on a journey of deep relaxation. Let the natural essence of our Myrrh Essential Oil guide you to a state of tranquility, creating a serene ambiance wherever it is diffused.

Revitalize and Refresh: Transform your surroundings with a revitalizing atmosphere. It helps cleanse the air, leaving it fresh, vibrant, and free from impurities. Experience the uplifting sensation as you breathe in the pureness of nature.

Luxurious Packaging: Presented in an exquisite 100ml amber brown bottle. The convenient dropper ensures effortless application, allowing you to savor the indulgence while maintaining utmost convenience.

Infinite Versatility: Embrace the versatility of our Myrrh Essential Oil as it nourishes your skin, enhances body massages, enriches your bathing rituals, and more. Let your imagination roam freely and explore the boundless possibilities it offers.
PACKAGE INCLUDES: One Unit

Experience the captivating allure. Shop now and elevate your senses with the essence of pure serenity.