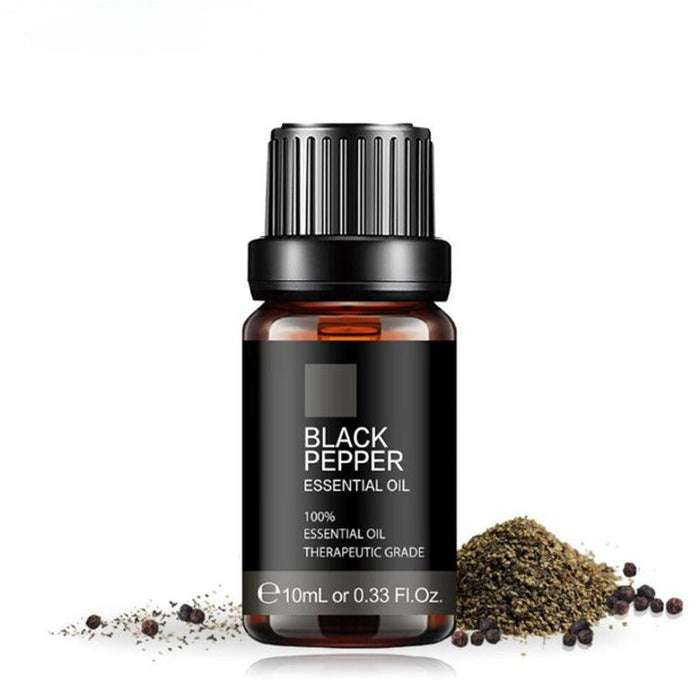 10ml Pure Black Pepper Natural Essential Oils
In Stock

10ml Pure Black Pepper Natural Essential Oils obtained from dried peppercorns has a peppery and musky aroma and works best for all kinds of pain, also a great way to detoxify your body.
About This Product:
High quality- These are 100% Pure Plant Extract Essential Aromatherapy Oils. No 

additives, No fillers, Just pure essential oil. Unwavering commitment to the highest quality products.

Usage- These Essential Oils are dedicated to bringing a calm, warm, relaxing, and pleasant environment, Condensing the essence of plants and feeling the power of nature.
Benefits- It is best for cleaning the atmosphere of dust and bacteria. It also helps in calming the mood and relaxing your mind.
Packaging/Quantity- It comes with 31 different variants of 10ml glass bottles with droppers. It is travel-friendly, safe, and convenient to carry.
Other Benefits/Versatility-These essential oils can also be used as a mosquito repellent.
Specification:
Number of pieces

: 

A unit

Type of essential oil

: 

pure essential oil

Ingredients

: 

Pure Natural Plant Extract Oil Essential

Item Type

: 

Essential oil

Package Include

 

: 

1 x Bottle 10ml Essential Oils

Volume

: 

10ml