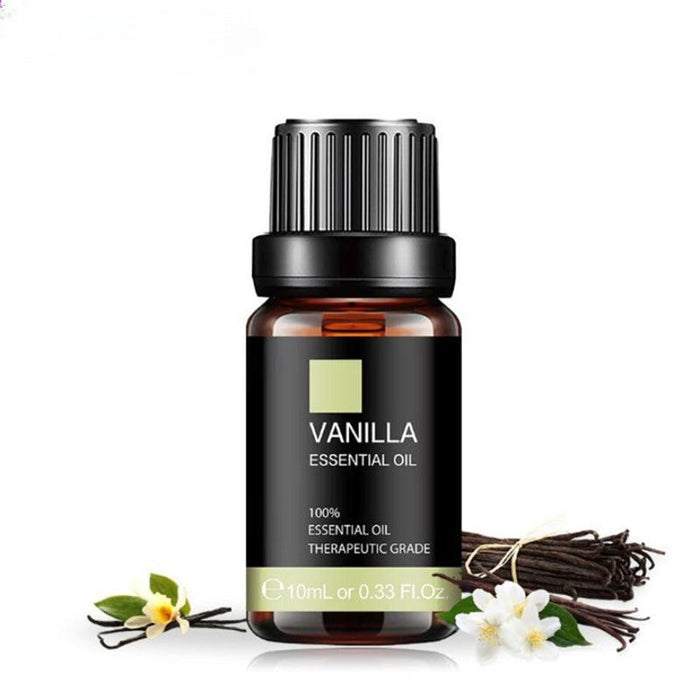 10ml Pure Vanilla Natural Essential Oils
In Stock

Experience the comforting embrace of our 10ml Natural Vanilla Essential Oil, a fragrance that's sure to become your favorite.

Immerse yourself in its mood-boosting, calming, and relaxing properties, fostering a positive environment that soothes the senses.
FEATURES:
High Quality: Our essential oils are 100% Pure Plant Extract Essential Aromatherapy Oils, free from additives and fillers. We maintain an unwavering commitment to delivering the highest quality products.


Usage: These Essential Oils are dedicated to creating a serene, warm, and pleasant environment by capturing the essence of plants and harnessing the power of nature.


Benefits: Effectively cleanse the atmosphere of dust and bacteria while promoting a calm and relaxed mood, soothing the mind.


Packaging/Quantity: Available in 31 different variants, each in a convenient 10ml glass bottle with a dropper. Travel-friendly, safe, and easy to carry.


Other Benefits/Versatility: These essential oils double as effective mosquito repellents, adding versatility to their range of applications.
SPECIFICATIONS:
Number of Pieces: A unit
Type of Essential Oil: Pure essential oil
Ingredients: Pure Natural Plant Extract Oil Essential
Item Type: Essential oil
Package Includes: 1 x Bottle 10ml Essential Oil
Volume: 10ml