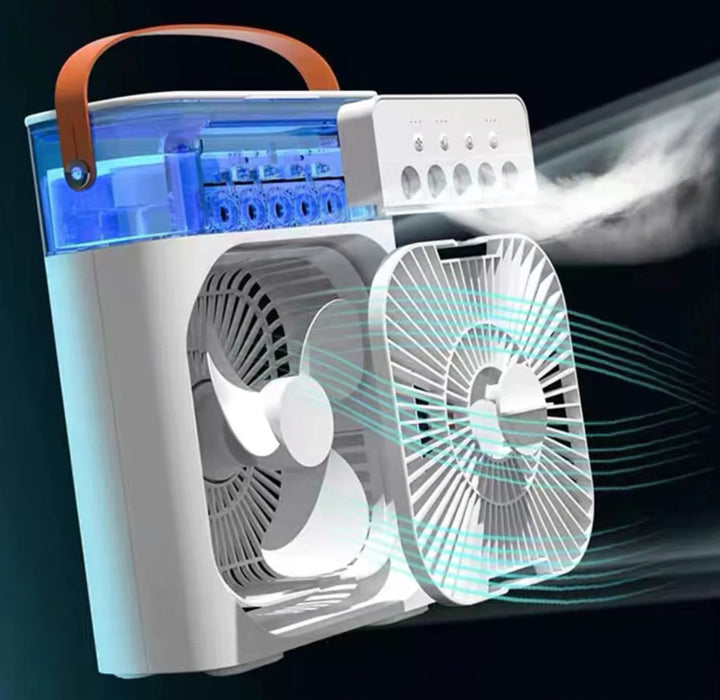 FrostAir Ice Fan
In Stock

Introducing the FrostAir Ice Fan—an innovative cooling device that harnesses the power of ice to deliver a revitalizing gust of air. By employing a distinctive mechanism, it effectively circulates chilled airflow, offering immediate respite from scorching temperatures.
Features:
Super long standby
Sound Quality 
Intelligent operation
Sleep mode

600 mL water storage 
180-degree rotation 
5 major nozzles
Washable 
Sleep aid night light 
Size Details:
8.26 in x 3.54 in x 10.23 in
Stay Cool, Anytime, Anywhere
Don't let the heat get to you. Stay refreshed and cool with FrostAir.
Sleek Design, Stylish Cooling
With its sleek and stylish design, FrostAir adds a touch of sophistication to your space.
Customize Your Cool
With adjustable fan speed and oscillation settings, FrostAir puts you in control of your comfort.
How do I operate it?
Operating the FrostAir Ice Fan is simple. Just plug it into a USB power source, fill the water storage, and turn it on using the touch control panel. You can adjust the settings and nozzle direction as per your preference.
How long does it keep me cool?
With full water storage, the FrostAir Ice Fan can provide cool airflow for several hours (a full night).
Is it safe to use while sleeping?
Yes, the FrostAir Ice Fan is designed to be safe for use while sleeping. It features a sleep mode option and a soothing night light that can aid in creating a peaceful sleeping environment.

Does it make a lot of noise?
The FrostAir Ice Fan operates with low noise levels, allowing you to enjoy the cool breeze without any major disturbances. It is designed to provide a comfortable and quiet cooling experience.