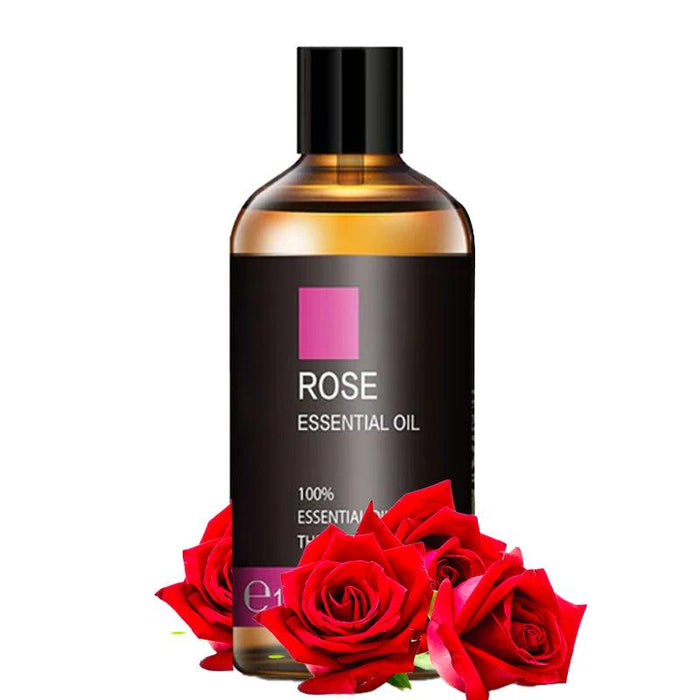 100ml Natural Rose Essential Oil
In Stock

Elevate your senses and embrace the enchanting allure of roses with our exquisite 100ml Natural Rose Essential Oil.

Captured from the finest rose petals, this precious elixir is your gateway to radiant skin, silky hair, and a serene state of mind.

Immerse yourself in the delicate fragrance and therapeutic properties of roses, embarking on a journey of pure indulgence and bliss.

Elevate your self-care rituals and envelop yourself in the timeless elegance of roses with our premium rose essential oil.
FEATURES:
Aromatherapy Bliss: Immerse yourself in the captivating aroma of our natural rose essential oil, renowned for its calming and soothing effects on the mind and body.
Create a tranquil atmosphere and enhance your well-being with every breath.


Skincare Marvel: Unlock the beauty secrets of roses with our essential oil.
Its rejuvenating properties nourish and hydrate the skin, promoting a youthful and radiant complexion.
Embrace the natural glow roses impart.


Hair Revitalization: Our rose essential oil works wonders in revitalizing and strengthening your locks, leaving them soft, lustrous, and beautifully fragrant. Embrace hair that shines with health and vitality.


Alluring Fragrance: The timeless and captivating scent of roses.

Use our rose essential oil as a personal fragrance or add a few drops to your bathwater for a luxuriously aromatic and indulgent bathing experience.


Therapeutic Benefits: Renowned for its therapeutic properties, rose essential oil helps alleviate stress, anxiety, and promotes relaxation.

Incorporate it into your daily self-care routine and let the soothing essence of roses uplift your spirit.
USAGE:
These natural essential oils target calmness and deep relaxation of your mind through breathing.


Perfect Essential Oils set for Aromatherapy, Oil for diffusers, humidifiers, Oil Burners, Spa, and Air purifiers.