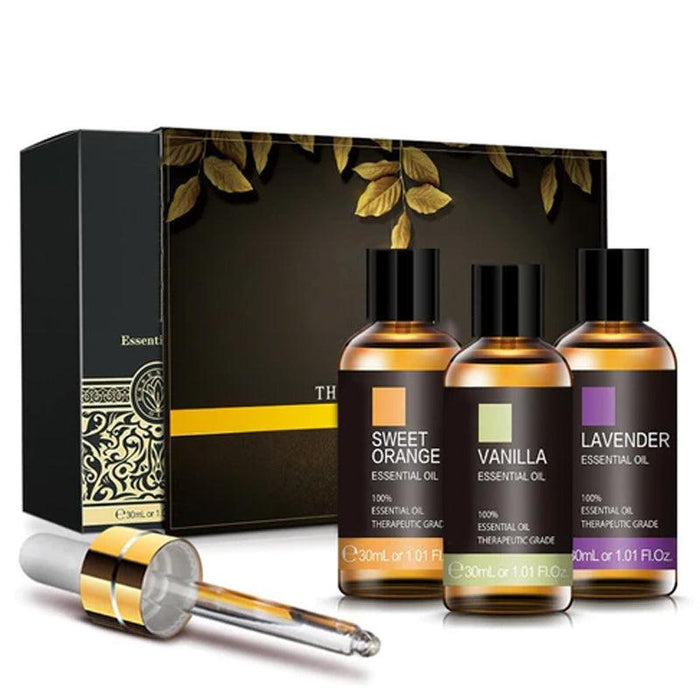 Natural Fragrances Essential Oils Pack Of 3
In Stock

Natural Fragrances Essential Oils Pack Of 3 has lavender, vanilla, sweet orange, Bergamot, Ylang ylang, and Eucalyptus fragrance oils which come in different combos of 3. These all are made from plant extract and can be used for massage as well as in diffusers or humidifiers too.
About this product:
Quality: 3 Pieces Natural Fragrances Essential Oils are made from 100% natural plant extract, making this oil high-quality and cruelty-free.
Usage: It can be used in diffusers or in humidifiers, as these oils act as natural aromatherapy and soothe the environment.
Benefits: Works as therapy, calm your mind and soul, spreads positivity in the environment, and is easily applicable as it comes with a dropper
Packaging: It comes in a pack of 3 with very unique fragrances which work great for anyone.
Elements: It has orange, lavender, vanilla, and other popular fragrances, all extracted from nature.
Features-     
Number of Pieces: 

Combo

Essential Oil Type: 

Pure Essential Oil

Item Type: 

Essential Oil

Quantity: 

3 bottles X 30ml