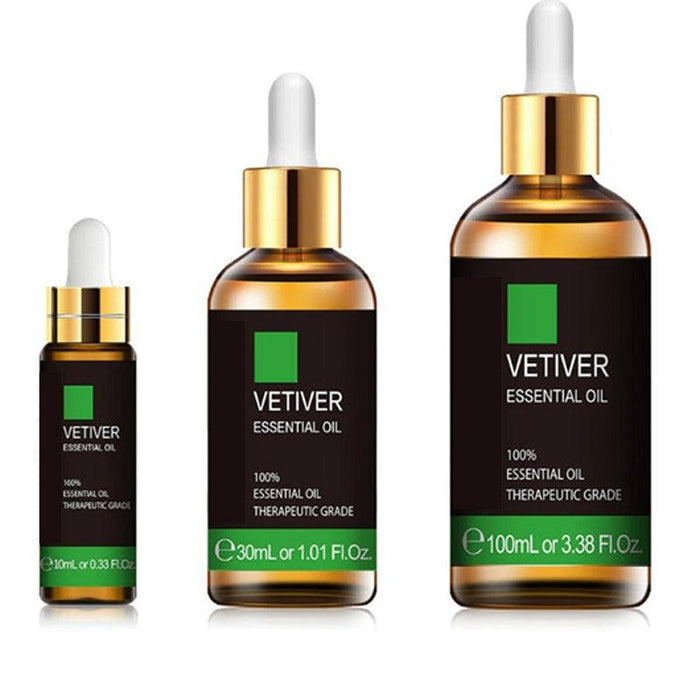 Pure Natural Vetiver Essential Oils Diffuser With Dropper
In Stock

Pure Natural Vetiver Essential Oils Diffuser With Dropper is extracted from the vetiver plant that has clumpy, green grass and is a great oil that works as aromatherapy and can be used in humidifiers too.
About This Product:
High quality- These are 100% Pure Plant Extract Essential Aromatherapy Oils. No 

additives, No fillers, Just pure essential oil. Unwavering commitment to the highest quality products.

Usage- These essential oils are 

known as oil of tranquility, as they are very calming in stressful situations and promotes deep relaxation. Add a few drops in a humidifier or diffuser and let the essence fill the atmosphere for the best results.

Benefits- It is best for cleaning the atmosphere of dust and bacteria. It also helps in calming the mood and relaxing your mind.
Packaging/Quantity- It comes in three sizes 10ml, 30ml, and 100ml in a dark brown glass bottle along with a convenient dropper for dispersals avoiding dripping and leakage.
Other Benefits/Versatility- You can also use these essential oils while bathing adding a few drops in your bathtub would make you refreshed and rejuvenated.
Features:

Number of Pieces: 

One Unit

Essential Oil Type: 

Pure Essential Oil

Ingredient: 

Pure Natural Plant Extract Oil Essential

Item Type: 

Essential Oil

Package Includes: 3

x Bottle Essential Oil

Volume: 

10ml/30ml/100ml